Events and Exhibits
Curious By Nature Events and Exhibits
Upcoming Events
Stewardship Hike: Peter Desrochers Memorial Country Knolls Trails (August 4 @ 1pm)
Led by Jennifer Viggiani, the Town of Clifton Park's Open Space Coordinator, this walk will explore some of the trails on uneven terrain through this scenic woodland. Please be sure to RSVP with Jennifer by calling (518) 371-6054. View our rendezvous location (which also shows the trails network).
I will tag along and point out some of the blooming wildflowers along the route. We hope to find Jumpseed, Pilewort and a few Asters and Goldenrods in bloom. Please view my wildflower field guide for these trails.
Please consider accompanying Jennifer for each of her monthly walks; a different nature preserve or park in the Town of Clifton Park is featured each month. Jennifer requests that you RSVP for each stewardship walk by calling (518) 371-6054.
Wildflower Walks along Zim Smith Trail - A Trek Through Four Towns
I have compiled a wildflower field guide, featuring more than 400 species, for the Zim Smith Trail. To help inform trail users about the myriad of wildflowers along its route, I will be hosting wildflower walks (approximately 2 hours each) along a segment within each of the towns through which that trail passes.
The kickoff for this series of wildflower walks will occur on the first Saturday of May along a Halfmoon segment followed by outings on the second Wednesday of each subsequent month: a Ballston segment in June, a Malta segment in July, and ending with a Clifton Park segment in August.
The schedule for those walks will be as follows:
Last One! - August 9 @ 5:30pm: We will depart at at 5:30pm from The Mill Tavern's parking lot along English Road (@ intersection with Route 9) and hike to where the trail crosses English Road and then return (less than 2 miles roundtrip). We hope to find Hog Peanut and a variety of asters in bloom.
During each wildflower walk, we will focus on one side of the trail corridor in each direction. By doing so, we will remain off the main trail surface during most of each outing.
I hope you will join me for each leg of this series of wildflower walks.
Ongoing Exhibits
Previous Exhibits
The Town of Clifton Park compiled its 2015 calendar from a selection of winning photos submitted to two photo contests conducted during 2014. The "Open Space and Nature Day Photo Contest" sought entries from residents and visitors with the goal of encouraging them to enjoy the outdoors. The second contest, "Art in Everyday Life," sought entries that represented the artist's interpretation of this theme in photographic images.
One of my entries, entitled "Vischer Ferry Sunset," was selected for the December photo of this calendar as a result of it being selected a first place winner in the "Landscapes" category of the Open Space and Nature Day Photo Contest.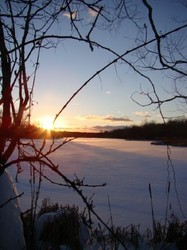 All entries were photographed at any of eight nature preserves or parks located in the town. The Open Space and Nature Day was hosted by the Town Board and its Open Space, Trails & Riverfront Advisory Committee on May 17, 2014.
View the 2015 calendar. Read more about it.
On December 1, 2014, the Town Board recognized the winning entries and the associated artists at the beginning of its regular board meeting with a slide presentation of the calendar's photographs.
A two-month exhibit at the former Local.Art.Works gallery in the Jonesville Store in Clifton Park included several of my wildflower and seasonal landscape photos.
Scenes from the artists' reception -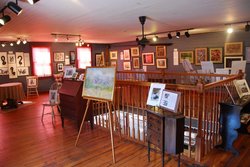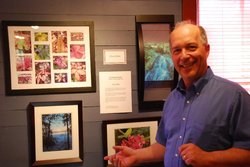 This winter landscape (St. Regis Mountain, part of the Adirondacks), was
previously on display
as part of the New York State Museum exhibit, entitled "Wish You Were Here!" That exhibition featured photographs submitted from the public-at-large from across New York to illustrate the types of scenes one would expect to see on a postcard that you'd send "back home" to visually capture something memorable from your trip. The exhibit was simultaneous with "
Not Just Another Pretty Place: The Landscape of New York."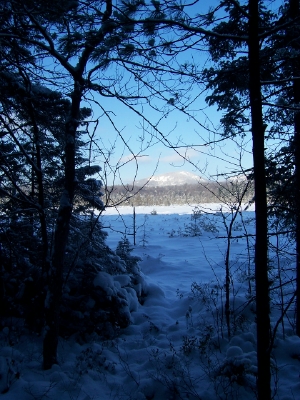 This winter image of the Vischer Ferry Nature and Historic Preserve, entitled "Shimmering Landscape," received a 2nd Place award in the "Nature" category in the 2009 Clifton Park River Days Photo Contest: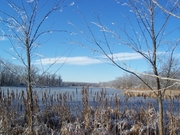 This waterfall image, entitled "Nature's Backlighting: Azure Cascade," was an unawarded selection in Clifton Park-Halfmoon Public Library's 14th Annual Juried Art and Photography Show: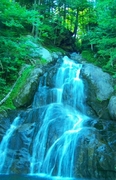 © David H. Behm / Curious By Nature